Santa's Winter Wonderland
|
home




Library of Christmas Poems

Library Of Christmas Poems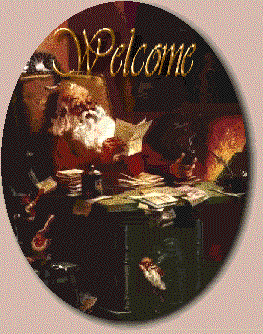 Christmas time
Christmas time is here
sleigh bells ringing in the air
A child's favorite time of year
White snow falling to the ground
carolers singing with great sound.
Seeing lights flashing to and fro
Santa going Ho Ho Ho
A child's favorite time of year.
By Michael
It's That Time Of Year
It's that time of year,
when your so dynamic.
That joyous holiday season has come
It's never a fallible time, this season.
All children radiant with fun,
Everyone happy and laughing.
People indulging in the love of the season.
The special day looming around the corner.
It's everyone's favorite time of year.
HAVE A MERRY CHRISTMAS!
By Michael
A Real Friend
A real friend warms you
with their presence, trusts
you with their secrets, and
remembers you in their prayers.
A real friend loves you
nomatter what, helps
you when you' re down, believes
in you when others don't.
A real friend is hard to find!
By Michael
What is Christmas?
What is Christmas?
A time of year when you
receive presents, or
a time of joy and love.
Is Christmas to
commercial or just the
right blend of holiday cheer?
Is Christmas about
presents or helping
and love?
You should ask yourself
these questions, because
only you can answer them.
Do you make Christmas
commercial or the right
blend of holiday cheer?
By Michael
Grandparents For The Holidays
You wait and wait for months
for Christmas time to come.
You want to do the many things
Christmas has to give.
You want to decorate a tree,
string lights across the roof,
but most of all you want to go
to you grandparents house.
Your parents love to go home for
the holidays, but me as a child,
going to your grandparents is just like
going home for the holidays.
They spoil you with sweets and pie,
let you decorate the tree and the house.
It's a special time going to your
grandparents house for the holidays.
By Michael
Visiting My Nana
At Christmas time, visiting my Nana
is so fun for me.
She and I play cards and games.
We have so much fun together.
At Christmas time you should,
say thanks to God for what you have.
God, I say thank you for all that I have,
but on the top of my list is my Nana!
By Michael
Christmas Time Papa
My Papa is such a swell guy
he's the best 'round Christmas time.
He maybe strict at certain times,
but he loves Christmas so much.
Papa is not a scrooge, but
a jolly man.
He loves many thing like,
baseball, bowling, and others, but
most of all his family.
By Michael
Santa
Santa 'round and jolly,
laughing Ho, Ho, Ho.
Giving presents like a lil' dolly
So sweet and kind,
rosy cheeks and glassy eyes.
Leaving us presents to find.
On December 24, he leaves his house,
at the North Pole to go on his ride.
scurry so quiet he never stirs a mouse.
With his eight tiny reindeer, and
one to lead the way.
All his reindeer, oh so grand.
Merry Christmas To All
And To All A Good Night!
By Michael
Santa's Yearly Journey
The night before Christmas
And quiet Santa's house,
Nothing was stirring not even a mouse.
The clock chimed midnight, Santa rose.
He went to his closet to put on his clothes.
Dressed in bright red and,
Black gloves covering his warming hands.
A black belt around his waist.
He knew he had to make haste.
On Dasher. On Dancer, On Prancer, and Vixen.
On Comet. On Cupid, Donder and Blitzen.
Santa took flight,
On a starry blue night.
The elves wave bye
With a big sigh.
All year long,
the elves work hard.
Singing a Christmas song.
Santa stopping at each house.
Being careful not to wake a mouse.
So quiet indeed, he always succeeds.
Delivering presents to each girl and boy,
Many children received a toy.
Some bad ones, though received coal.
Traveling to each country and state.
From India to Japan to the US of A.
Milk and cookies is what he ate.
As Santa finishes his last house.
He knows it was a job well done,
and that he had so much fun.
He flies back to the North Pole,
Having 10 sacks of coal.
He places in the fire.
Children finding presents under the tree,
and laughing and chatting with so much glee!
By Michael
Christmas With Uncles and Aunts
Uncles and Aunts
all Santa's elves.
Spoil you rotten
with candies and sweets.
At Christmas time
all fun and games,
joyful and dynamic,
loving and helpful.
They buy you presents
that are to your liking.
Christmas is not Christmas,
without Uncles and Aunts.
By Michael
My Christmas Realization
My only wish this Christmas
was for it to snow.
I knew it impossible, never to happen.
How silly to snow in a place like Florida.
I never was alive when it last snowed
if ever. If it ever will.
What a perfect Christmas to snow.
I wish a perfect Christmas for me to have.
Like those Christmas cards, shows and stories.
I believe every year something was missing from
my Christmases.
The only thing missing was snow, a white Christmas.
I pray and hope and believe but nothing happens.
no snow.
It's Christmas Eve and no snow,
I go to bed mad and sad.
A wake up during the night, then I relize
Christmas isn't about snow but,
love, hope, helping, carring, joy, and family.
There was still one thing missing from my
Christmases in the past.
Me being a scrooge but not joyful man.
I there something missing from your Christmases?
By Michael
Christmas is a Time
Christmas is a time of
cold weather, and
warm traditions: When
special decorations are
brought out of the attic.
Smells of favorite family
recipes fill the frosty air.
When families take time
to sing holiday songs and
tell the stories they loved
the most.
Christmas time is a time
of many things: Plus
Our saviors birth.
By Michael
Before Christmas Dawn
Before the breaking of dawn.
Before the cock crowed.
Jesus our savior was born.
Born in a stable, to his
sweet mother Mary.
A manger where he slept.
Born a poor boy though,
he had all the riches of
the world!
This little boy so peaceful
and serene. No one know
what he would bring.
He, Jesus Christ saved us
from sin and thus we
are free from evil.
By Michael
Christmas So Jolly
Christmas is so jolly.
People decorating
with mistletoe and holly.
Families buying their tree.
Trimming it with tree trims.
Christmas for he and she.
Carolers singing their hims.
What a grand time of year.
Christmas is so dear.
By Michael
I Welcome Christmas
I welcome Christmas
with open arms, warming
hands, and cheerful joy.
I welcome all about Christmas,
its feeling and hims, but most
of all Christ's birth.
I welcome the snow, so
cold but warming, playing
a part in a grand Christmas.
I welcome Christmas
with open arms, warming
hands, and cheerful joy.
You should too!
By Michael
Ol' Sly Saint Nick
Ol' Sly Saint Nick
always using the same trick.
How does he do it?
Climb down the chimney
so slick and quick.
So sly and makes no such peep.
He tiptoes about
around your house,
not even waking a mouse.
He stuffs the stocking
of girls and boys,
with grand toys.
Ol' Sly Saint Nick
using the same trick.
How does he do it.
Must be magic.
By Michael
Copyright 2000